Online Registration Process #2023-24
Computer Center Registration Process (Requirements/PROCEDURE/Steps), How to Set up Register Computer Center, INSTITUTE in India #2023-24
An ISO 9001:2015 Certified Organization
Certified/Licensed By- Govt of India
Running Successfully Since 2008
Territorial Jurisdiction Applicable to All over India.
India's Fastest Process To Register Computer Center with Free ebooks.
Get Your New Computer Institute Code Quickly within 12 Hours.
Registered Your Computer Course Training Skill Centers.
29.October.2023: Best Norms For Computer Institute Registration (Recognition) Procedure, Free Guidance Under SITED, Certified/Registered by Govt of India.
Vide Licence.No.2/114/T-1/08/D, Read with the notification of Central Ministry of Law, Justice & CA, Department of CA No. GSR 288(E) dated 31.5.1991, Vide Reg. No. U72900HP2008NPL030981, ISO 9001:2015 Cert. No: ACBCB/ICMC/111601101, New Delhi.
100% Genuine Computer Center Registration Process, Register, Affiliate Online Institute, Free ebooks, No Monthly Audit, No False Commitment, Low Cost IT Center Set up By Reputed Govt Licensed Organization in India, Since 2008.
Get Free Computer Centre Startup Kit For Registration/Affiliation/Franchise of Computer Institute with SARVA Education, govt certified.
Govt of India Registered(R) (ORG) New Computer Institute Registration Terms, Courses, Tips, Steps, Franchise (Affiliation) Procedure (Process) For Village (Rural) & City (Urban), Tehsil, Block, District Area of India.
Computer Institute Registration step in 2023 Defines Smooth Procedure & Rules for Computer Education Courses Affiliation, Guidelines To Get Low Fee Franchise, Registration & Recognition- To Open, Start, Establish Your Computer Training Center & Institute In India
Computer Institute Govt Registration is a process "by which a Computer Training Center Applies Online for Affiliation along with required documents" with the autonomous Computer Institute Registering Authority, Which is regulated by govt or private Association.
What is Computer Center Affiliation Process? describes "An Action to Affiliate self Managed Computer Education Center" under higher administration for running computer training courses at particular place with valuable & recognized certifications.
According To Sarva India Computer Education Center Govt Recognition defines an Registration Procedure "Where one Private Computer Courses Study Centre produces all mandatory Papers or testimonials along with Fee" before concerned department or agency for taking Permission.
If you want to check a computer institute is registered then here is the best solution, just enter your center Registration code here and verify the authenticity and Trustworthiness.
Most Important Tips/Process For How To Apply Online Computer Institute Registration with govt registered Org.-
1

st

step- Decide Center Set up Budget
2

nd

step-
Know Your Competitor
3

rd

step-
Appoint Well Qualified Teacher
4

th

step-
Purchase Quality Furniture
5

th

step-
Design Centre Building layout
6

th

step-
High Configuration Computer
7

th

step-
Arrange Funds for Institute
8

th

step-
Choose Best Computer Affiliation/Franchise
9

th

step-
Apply For Computer Institute Registration with Sarva India
2023-24: Documents needed for your Computer Training Institute center Registration (Affiliation) Process:
Signed Centre Registration Form
Centre Owner 2 Photos
Aadhar Card Copy
Voter Card Copy
Last Qualification Copies
Low Centre Registration Process Fee
2023-24: Essential set up requirement To Register/Start New Computer Education Training Center/Institute in India:
Minimum 3 PC or Laptop
1 Room (100 to 200 Sq)
6 Chairs in Theory Class
6 Chair in Lab Class
1 Printer (B&W or Color)
Internet Connection
3 Computer Table
1 Table & 4 Chair for Director Cabin
Are You Searching For Computer Institute Govt Registration? Then Also watch Latest video released by Sarva India:-
If, you WANT to know the "EXACT PROCESS steps" to Register-Get/Establish/Begin/Open Computer Training Center or Computer Education training institute Informations with low investment.
Then, Get Complete Prescribed Details For Your New Computer Center Registration with govt Certified Organization, Which are Available Here, You can go through All Registration step by step Formalities, Fee's idea & Complete Your New Computer Education Center Registration Process in trouble-Free Steps.
You can become or emerge as our REGISTERED COMPUTER EDUCATION TRAINING FRANCHISE CENTER with low, small & minimal investment everywhere in India-
Our BRANDED Computer Center Franchise-Affiliation-Offer/Scheme-Plan is the exceptional Appropriate option for you, because we offer & provide computer institute franchise or Registration procedure for starting computer centre affiliation with cheap/low fee-investment all over India, Since 2008.
Sarva Education words itself endorse Training/Education Center Registration For all without any discrimination of caste, tradition, faith, gender, repute and so on. SITED believes in humanity & respects all castes & religions of our incredible Bharat (Republic of India).
Sarva Education (An I.T. Training Awareness Programme) initiated or recognized by Sarva I.T & Educational Development (SITED), which is Prime/True/Relied on/Reputed/TOP level country wide autonomous organization for Computer EDUCATION, I.T, HRD, Skill Development & Literacy Programmes. It works on not for income purpose.
SITED(R)-India is a valid organization, has Started out under its Registered job orientated Computer Education Courses or I.T & occupational education Awareness programme, Abhiyaan, Project, Saksharta Mission to remove the prevailing burning problem of unemployment that is being promoted with the aid of/in the name of- Sarva Education. To promote computer (I.T.) training/literacy/training/talent-Skill improvement & Development Programme.
SITED India has been Certified/Licensed By Govt of India

vides LIC. no.2/114/t-1/08/d, read with notification no. GSR 288(E) DATED 31.5.1991 of GOVT. OF INDIA- Ministry of law/regulation, justice & Department of CA

.
SITED-India has been Obtained prestigious worldwide ISO 9001:2015 certification for its best control/management system.
SITED (INDIA) is the quality ISO 9001:2008-2015 certified computer training center/institute Registration, Franchise & Affiliation Provider Organization/Institute in India. Operating Vicinity & Territorial jurisdiction of the organization extends to entire of India.
Our Essential goal is to take away the burning hassle of unemployment in rural, gramin region or urban/Shahri/City area or village areas of India under its Computer Saksharta Mission.
For this noble purpose, Sarva I.T. & Educational Development is providing great job oriented computer software courses training & hardware education, occupational education/training courses at minimal & inexpensive or low expenses to people/individuals through its TOP, PREMIER LISTED COMPUTER TRAINING FRANCHISEE OR AFFILIATED, REGISTERED INSTITUTE INDIA. Particularly in the area of computer training/education so that our unemployed people able to get/obtain/avail 100% self employment & employment possibility in all types of private & government zone jobs.
Sarva I.T. & Educational Development has constituted diverse national level division or initiatives or programmes for the proper running and management of job oriented computer education & occupational trainings schemes & projects, consisting of- Sarva Education (computer software & hardware training), Sarva Instructor training, Sarva spoken English & personality improvement Education.
Registered/Valid/Recognised Courses by Sarva Education/training are launched after an initial survey to meet all associated requirement of the student/scholars.
Sarva I.T. & Educational Development has very good instructors support and a great environment which prepare the scholars for country wide and international profession/job possibilities inside the know-how-based economy via boosting their employability through activity oriented computer or skill/talent development trainings.
Sarva I.T. & Educational Development Presents or introduces computer education government projects/schemes for its computer institute franchise & registered computer center under tie-up with government corporations/department.
To get/obtain-Registration AS computer Education Training Institute Franchise | computer center recognition | computer education centre affiliation | computer institute registration or to be/become our computer education franchise or affiliate in Bharat (India),
Potential Register computer training centre head has to comply with clean/easy approach/manner to get/open/set up our computer institute franchisee or computer center affiliation, computer training institute registration, computer academy recognition, computer cad courses accreditation.
Any Man or Woman, Registered NGO, Already Established Computer Institute & New computer/vocational education centre who's searching for, searching out, need to get quality business possibility in the subject of computer education Franchise & Occupational/vocational education, Skill Development, with low investment can observe for our computer education franchise offer & computer training centre affiliation in his/her concerned place, if he/she fulfills all necessities, regulations & policies laid down or prescribed for putting in computer training institute or turning into computer franchisee centre in India below our computer education franchise emblem/brand.
On Fulfilling of all PROCEDURE, PROCESS, Steps NECESSITIES & METHODS FOR REGISTERING/OPENING NEW COMPUTER Education TRAINING Centre/INSTITUTE or Turning into/becoming & beginning our NEW Register computer centre franchise in India.
SITED head office will provide/offer/award/ Computer Center Authorization, Computer Institute Registration-Affiliation-Recognition Franchisee Certificate to its Registered/Permitted & Affiliated (certified) computer center.
For validity of computer center- our authorized & certified computer centre franchisee can affirm/check/verify his/her registered/recognized/affiliated computer centre-institute code at our website: sarvaindia.com.
Sarva-India has designed & provided exceptional ONLINE/OFFLINE theoretical & practical FREE COMPUTER EDUCATION EBOOKS for students, who have taken admission OR Enrolled underneath Information Technology (I.T), Computer, and Occupational/vocational/skill Courses training awareness Programme/Scheme/project/BUSINESS Plan of SITED, in our procedure wise Registered Computer Franchise or Affiliated centres all over India (Bharat).
All FREE COMPUTER EDUCATION E-BOOKS have been designed by way of skilled experts of I.T. area for Registered computer students/trainee studying in our TOP Registered, computer franchise institutes & computer affiliated centres anywhere in Village, Cities, Block, District of Republic of India.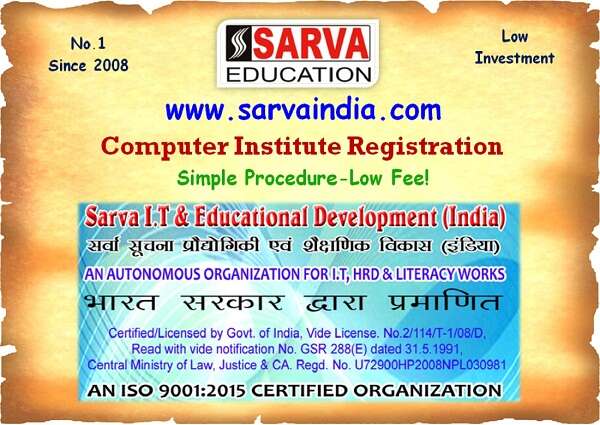 Sarva Education has Released/Initiated computer education training institute registration process (affiliation, association, registration concept & computer education franchisee PROPOSAL, scheme-offer-PLAN) for following states in India:-
*Andhra Pradesh, *Andaman and Nicobar, *Arunachal Pradesh, *Assam, *Bihar, *Chandigarh, *Chhattisgarh, *Dadra and Nagar Haveli, *Daman and Diu, *Country wide capital territory of Delhi, *Goa, *Gujarat, *Haryana, *Himachal Pradesh, *Jammu and Kashmir, *Jharkhand, *Karnataka, *Kerala, *Lakshadweep, *Madhya Pradesh, *Maharashtra, *Manipur, *Meghalaya, *Mizoram, *Nagaland, *Odisha, *Puducherry, *Punjab, *Rajasthan, *Sikkim, *Tamilnadu, *Telangana, *Tripura, *Uttar Pradesh(UP), *Uttarakhand, *West Bengal and so forth.
Summary- Computer Center Registration
To Get Recognition (Registration-Affiliation) As "Computer Center Franchise" or Want to Grow /Become our registered PC- Computer Education Training Franchise or Affiliate in India-Bharat then, Prospective/NEW computer centre head has to follow simple manner to get our computer institute franchisee or computer center affiliation & registration.
Any person/Individual, ngo, already Running/Opened/Existing Computer Training Institute & new computer education/vocational training centre who is seeking for nice business possibility inside the area of computer & occupational education with low funding can avail our computer education franchise & computer education affiliation in his/her concerned region.
If he/she fulfills all Requirements, Policies & Guidelines laid down or prescribed for putting in place for Registering A Computer Training Institute or Becoming our registered center or recognized computer literacy center franchisee in India underneath our prime brand name.
On final touch of All necessities & procedures for turning into/beginning/getting our computer centre franchise in India, SITED head office will provide or Furnish computer center authorization certificate or Registered Computer Institute Franchisee Certificate, To Accepted/Approved I.T Centre. Our Finalized Accredited (Register Computer Education Study Center in India, Computer Academy franchisee, Affiliated Computer Coaching Institute can confirm his/her centre code on our internet site: sarvaindia.com
IT Training Mission for Computer Center Registration & Best IT Franchise
Fill up New Computer Education Center Enquiry Form Here
"A National I.T. & Skill Advancement Training Programme"
Initiated By-
SITED-Sarva I.T & Educational Development (India)
Visit Official Website: www.sarvaindia.com
Note - Do Not Copy -
Copyright-Since 2008, SITED-INDIA. All Rights Reserved.
Legal- All Mentioned Article contents or paragraphs on this webpage are Copyrighted by SITED- If the same contents are found anywhere e.g. on internet, websites, printed materials & in any digital form, then legal action shall be taken under copyright laws of India against defaulter/s.