Affiliation: To OPEN Computer Education Center! Franchise: To START Computer Institute! Recognition Under Govt Registered Brand in India-2023"
An ISO 9001:2015 Recognised Organization
Certified/Licensed By- Govt of India
Running Successfully Since 2008*
Best Affiliation For Computer Courses Institutes in India
03.July.2023- Apply Now: For Affiliation, Recognition of Computer Education Courses Training Institute or Center Franchise Registration Under Sarva Education-(SITED) in 2023, Certified/Licensed by Central Govt. of India.
Vide Licence.No.2/114/T-1/08/D, Read with the notification of Central Ministry of Law, Justice & CA, Department of CA No. GSR 288(E) dated 31.5.1991, Vide Reg. No. U72900HP2008NPL030981, ISO 9001:2015 Cert. No: ACBCB/ICMC/111601101, New Delhi.
Govt Recognised Computer Institute Franchise describes "One reputed Computer Franchise Company assigning its business techniques to another Party for starting computer courses Institute in local market" for Which Franchise Fee is charged.


Before Taking Govt Recognised Computer Institute Franchise, Keep in mind 9 Exact and Proven Affiliation Steps:
1st Step:

Set Your Budget
2nd Step:
Watch Market Competition
3rd step:
Appoint High Qualified Instructor
4th step:
Arrange Quality Furniture
5th step:
Design Layout of Centre setup
6th step:
High Configuration Computer
7th step:
Manage Funds for Institute
8th step:
Join Top Computer Affiliation
9th step-
Apply For Computer Institute Franchise, Affiliation with Sarva India
Necessary Documentations Process for Getting Best Computer Training Institute Affiliation, Center Franchise Recognition in 2023-
Signed Centre Affiliation Form
Centre Owner 2 Photos
Aadhaar Card Copy
Voter Card Copy
Qualification Copies
Low Centre Franchise Process Fee
Set up Requirements For Affiliation, Registration, Franchise For Your Computer Institute, Under Govt. Certified Brand, SARVA INDIA in 2023:-
Need 3 Computers

11 Chairs Require*

One Big Table

1 Room for Training

2 Fans or AC

1 B&W Printer

Drinking Water Facility

Electricity

Backup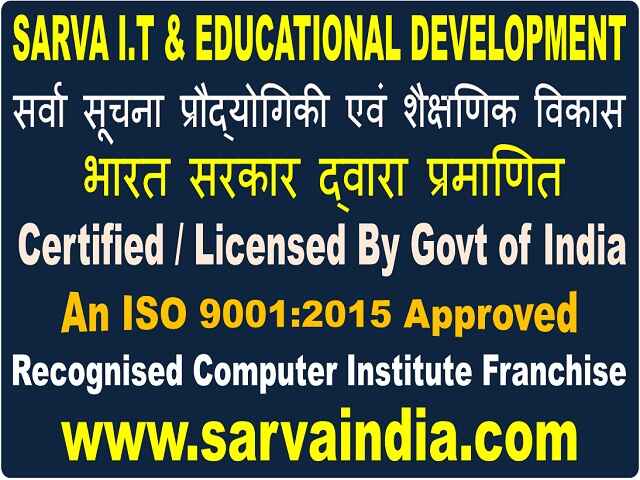 Which are Offering Recognised (APPROVED) LOW FEE Computer COURSES, Computer Education Franchise, Computer Center Affiliation & Computer Education INSTITUTE RECOGNITION- Business PLAN Opportunity for pretty much everyone to get involved with.
Just think at the number of "COMPUTER Centers NAME LIST, I.T institute and TYPING Training centres there are across the India and combine that with the thought that there are so many Branded, NO.1, Approved OR Recognised computer Courses Franchises around India and you'll be amazed at how many Recognised OR REGISTERED Computer TRAINING Institute Franchises it's actually possible to have in one nation!
Even so, did you notice that there are approximately 8,70,000/- Registered, Recognised or Affiliated Computer CENTERS or Affiliated COMPUTER INSTITUTE or Franchisee Computer Training COACHING ACADEMY of Top, BEST, Leading, Trusted, VALID, Genuine, No.1, Computer COURSES Institute Affiliation (FRANCHISE) RECOGNITION, REGISTRATION Provider Organizations throughout the India and about just as many, if not more, exist in all states as well! Indeed, Opening or Starting a computer education center under best computer education franchise organization in today's world or universe has become about the most popular idea next to actually opening..starting your own computer education institute under successful computer center affiliation model in India. There are Computer SOFTWARE Institute Franchises, Though, Computer TYPING Center Franchises, HARDWARE NETWORKING computer center Franchises, and even NURSERY TEACHER TRAINING Center Franchise, BEAUTY PARLOUR CENTER AFFILIATION, SKILL DEVELOPMENT COURSES Recognition that one is able to START on their own.
Computer Training Institute Affiliation: Recognised or APPROVED Computer SOFTWARE or HARDWARE COURSES Center Franchise (Affiliation) is a very interesting and unique business opportunity to afford, though. Out of many of the computer software centre affiliation available, many of them have upwards of Rs. 1,00,000 in startup costs, charged as recognition of computer training centre.
Aside from the really BIG, Best, TOP, NO.1 Computer SOFTWARE Hardware INSTITUTE Franchise and Koneks as one example, owning or possessing a computer software institute franchise does NEED OR REQUIRE a husky out-of-pocket financial requirement although Rs. 10,000 for the average amount for owning a FRANCHISE TO START A COMPUTER SOFTWATE, HARDWARE Education COURSES TRAINING INSTITUTE isn't too worst at all when compared to other computer center franchise opportunities.
If one would truly think about the opportunity before them, though, the returns that are earned from a - Recognised Computer Education Ffranchise Center- are well worth the money that is paid for them. Understanding, going into the depth of the fact that millions of Indian, as well as individuals throughout the world, absolutely cannot continue throughout their business without computer knowledge.
Indeed, the head office of the organization exists essentially to care or help out the other LOW INVESTMENT Computer TRAINING Institutes Franchises around the India, so this is absolutely the first place one should turn in order to ask if they can change the hardware in their computer education institute, admission questions or inquiries from a various students, and ask many of the other questions that computer Institute franchises usually have!
Altogether, it definitely is worthwhile to START Up, SET Up Recognised, CERTIFIED, REGISTERED Computer COURSES TRAINING Institute, or Computer Coaching Center UNDER NO.1, TOP COMPUTER Center Franchise or Affiliation or RECOGNITION Provider Organization in India, on the next corner of your neighborhood! With all the various types of recognised computer center franchises around, though, chances are that it will not be too hard to find a computer education institute that you like!
Get more details On:
" This Year, Start Recognised ! Computer Education Center & Institute | Under Best Approved Computer Courses Affiliation, Recognition & Franchise of SITED"
Click Here! To Fill Up New Center Enquiry Form
A National I.T. Skill Advancement Training Programme
Initiated By-
SITED-Sarva I.T & Educational Development (India)
Visit Official Website: www.sarvaindia.com

Note - Do Not Copy -
Copyright-© Since 2008, To Till Date By SITED-INDIA.
(All Rights Reserved)
Legal- All Mentioned Article contents or paragraphs on this webpage are Copyrighted by SITED- If the same contents are found anywhere e.g.on internet, websites, printed materials & in any digital form, then legal action shall be taken under copyright laws of India against defaulter/s.